Google Earth
7.1.2
World Preview
The internet is the window to the world. You can explore any subject and retrieve whatever articles, pictures or videos interest you. Still, when you just want to explore the world at your leisure and discover new and interesting stuff, the search engine is a bit bland. You seldom get the freedom to just look around because you mostly get exactly what you asked for. Google Earth has taken care of this inconvenience since 2005, and even though Google Maps has basically replaced it in regards to finding specific information, it is still worth looking up if you just want to to be surprised.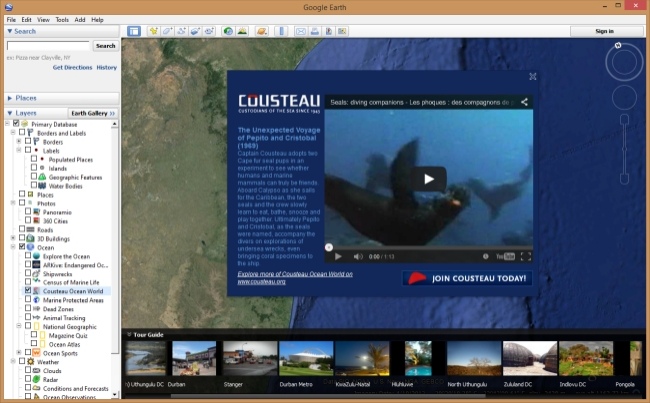 Fly me to Mars
Instead of beginning your journey of discovery from a keyword, in Google Earth you begin by rotating the globe while the Tour Guide (bottom bar) displays points (or rather areas) of interest relevant to your current view. Selecting something will zoom you in and load relevant pictures for different spots in the displayed area. This is a nice way of exploring countries, cities and natural features in parts of the world that you now little about.
Alternatively, you can explore using the layer system. Each layer represents a category of pins that appear on the Earth. There are about 50 of them and they range from simple photos to 3D shipwrecks and thematic collections. Everything can pop-up and give you quick details and web links. Google Earth also has a browser. A link is usually opened this way, but you will also get a button to open it in your default browser. The variety can keep you occupied for a while. If not then you will be able to admire the 3D rendered landscape. Yes, not only is Earth a sphere, but mountains, cliffs and ditches can all be seen from different angles and even walked upon.
Speaking of 3D terrain, you can also opt to fly a plane, taking off from one of the two dozen airports around the world. This mini-game is actually a pretty terrifying simulator where you get to control a lot more aspects than just throttle and roll. Typically, you can use the mouse and keyboard, but you're better off flying with a joystick since delicate maneuvers are less likely to send you crashing into the textured mesh.
Tip no. 1: You should search the net for the keyboard controls as they are never shown to you within the simulator.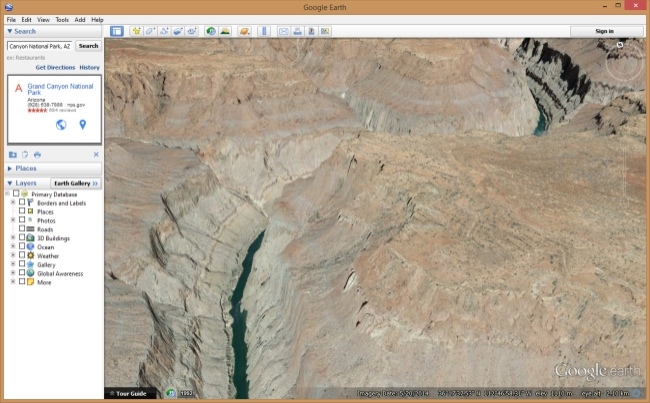 Another neat feature is that Google Earth also includes maps of Mars, the Moon and a panoramic view of the stars. Each come with their own sets of pins and 3D mapping (except the stars).
Tip no. 2: Launching the simulator while on Mars or the Moon will allow you to fly over them in perfect atmospheric conditions. That way you can brag to your friends that you landed on the Moon or that there really is atmosphere on Mars.
Google Earth can also be your personal map canvas. You can insert annotations and reference them later. Paths, polygons and picture overlay can help you set up hiking plans, mark landed UFO's and keep a map of local restaurants.
Features:
3D map of the globe
Integration with the Google search engine for location searching
Tour Guide pictures from Panoramio
Layers - optional pins and graphics that can be displayed on the 3D view
Mars, the Moon and Sky - Other globe maps
Flight Simulator - Simulates air-flight fairly realistically
Annotations - saved locally for your convenience
Tip no. 3: Try flying through the Grand Canyon. You will definitely need to use the Force for this one.
Pros:
The integration with the Google search engine makes for a very novel experience.
The flight simulator is fun!
Cons:
Some view control issues.
Conclusion
Google Earth is a good tool for cooling down after work day (if you can't help but stay in front of the computer), or for marking special places on the globe that you hold dear in some way or the other.
---
Add a review
Tell us your experience with
Google Earth
7.1.2
RELATED PROGRAMS
Our Recommendations
---
---
---
---